島根県の「医療・福祉・介護・健康」関連製品
"Medical, welfare, nursing care, and health"-related products from Shimane Prefecture

This section introduces "medical, welfare, nursing care, and health" products manufactured in Shimane Prefecture in Japan.
These are products used in hospitals, clinics, welfare facilities, and nursing care facilities, and other health products and health care products.
If you have any questions about a product, please contact the manufacturer directly or the Shimane Prefectural Government E-mail: kaigai-tenkai@pref.shimane.lg.jp

  Automatic Excretion Treatment Apparatus "Liberty Himawari"

This apparatus maintains sanitation for the care receiver with automatic suction of excreta,clean sing and drying.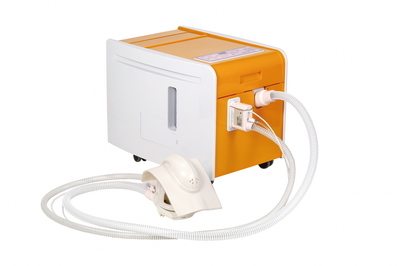 It reduces the burden of caregivers and protects the dignity of the care receivers.
Since it does not use diapers, it can prevent infections that are likely to occur in the pubic region and buttocks.
"Three technologies"
[1] Excretion Sensor System
 The built-in sensors in the cup unit detect urination and defecation, then automatically start suction, cleansing and drying.
[2] Special Silicone
 The cup unit, which comes in direct contact with the skin, uses a "special silicone" that excels in adhesiveness, water repellency and safety. This material used for artificial breasts is harmless to the human body even with extended usage and there is no need to worry about urine or water leakage.
[3] Excretion Tank/Separator
 Stabilized suction power during high-speed rotation completely separates air from solid and liquid waste. It is easy to clean, with no difficult operations.

For more information, click here. Interviews
---
Liberty Solution Co., Ltd.
1-2-7 Nishiyomeshima, Matsue, Shimane
TEL+81-852-61-3999  FAX +81-852-61-2399
http://www.liberty-so.com/en/index.html(外部サイト)

 Suisui Cart  KW130

For people who have difficulty in walking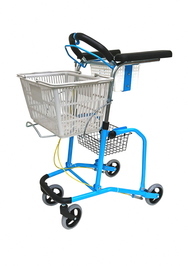 This is a foldable forearm support type walker.
With an elbow rest, it allows the user to walk comfortably for a long period by reducing the burden on the legs and back. As there is a space where a shopping basket for shopping centers can be placed, it allows the user to maintain physical strength and train for rehabilitation while enjoying shopping and so forth. It can be used in convenient ways, including walking while carrying heavy books in it in a library.
The height of the forearm support can be adjusted in 5 steps with 5 cm increments, and it is safe to use with a one-touch brake.
---
Kishi Engineering Co., Ltd.
893-5 Satokatacho, Izumo, Shimane
TEL +81-853-23-6383 FAX +81-853-23-7367
https://kishieng.jp/en/(外部サイト)

 Comfortable Rehabilitation Walker Sabaru  KW300

This walker was developed jointly with the Izumoshimin Rehabilitation Hospital.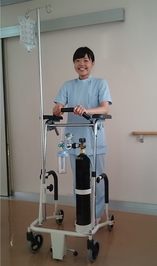 It is a multifunctional rehabilitation walker for hospitals.
The brake is applied by pushing the handle toward oneself, and it functions as a support bar for standing up. The brake is released by pushing the handle toward the front, and it can be used as a grip bar for walking.
The height of the forearm support can be adjusted in 10 steps with 2.5 cm increments.
It is possible to attach an oxygen tank mount, drip infusion rod and accessory box with hooks as options.
---
Kishi Engineering Co., Ltd.
893-5 Satokatacho, Izumo, Shimane
TEL +81-853-23-6383 FAX +81-853-23-7367
https://kishieng.jp/en/(外部サイト)
しまねブランド推進課
〒690-8501 島根県松江市殿町1番地
TEL:0852-22-5128
FAX:0852-22-6859
brand@pref.shimane.lg.jp