島根県のLED照明器具
LED lighting apparatuses from Shimane Prefecture

This section introduces LED lighting apparatus manufactured in Shimane Prefecture in Japan.
An LED lighting apparatus is an excellent light source with low power consumption and long life which utilizes light emitting diodes.
If you have any questions about a product, please contact the manufacturer directly or the Shimane Prefectural Government E-mail: product-information@pref.shimane.lg.jp

 Shell Type LED Lamps

We pursue new functions of shell type LED lamps.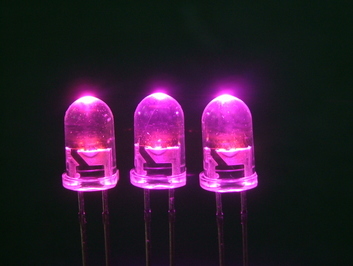 Our company has a wealth of know-how and expertise as it has been in business for 40 years specializing in radial lead & casting mold sealed type LED lamps and light receiving parts, and we have acquired the absolute trust of many of our customers who have supported our products. We also offer individual product proposals that meet the needs of our customers. We can offer optimal products with high quality and high functionality. In addition, we respond quickly and carefully to small-lot and short-delivery orders as well as technical inquiries from customers.
First, please contact us with "I wonder if you can make something like this"!
---
Toricon Co., Ltd.
3825-8 Nakano, Onancho, Ochigun, Shimane
TEL +81-855-95-2150 FAX +81-855-95-0120
http://www.toricon.co.jp/(外部サイト)

 AdvanLED COB Module

The AdvanLED Module is an LED device which adopts the "Chip on Metal Module (COMM)," which was developed jointly between our company and Shimane Institute for Industrial Technology (patented technology).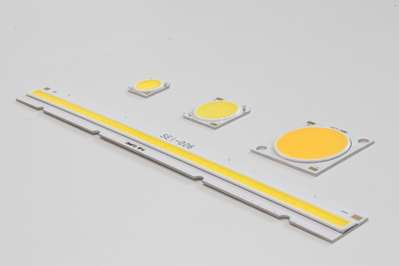 With the adoption of "COMM," it will improve heat radiation performance, which is the biggest enemy of LED packages, and contribute to achieving high luminous efficiency and extremely long life.
In addition, our company is capable of finely customizing the requirements for color temperature, color rendering, brightness (total luminous flux), etc. as well as fabricating serial and parallel circuits to support the power supplies of the customers.
This has become the flagship product of our company, which has been well received by many fields since its launch.
---
S.E.I Co., Ltd.
281-1 Kanagichoimafuku, Hamada, Shimane
TEL +81-855-42-1405 FAX +81-855-42-0310
http://www.s-imf.co.jp/(外部サイト)

 LED Lighting Apparatus DOME Light Series

Ballast-less LED lighting driven by an AC (alternating current)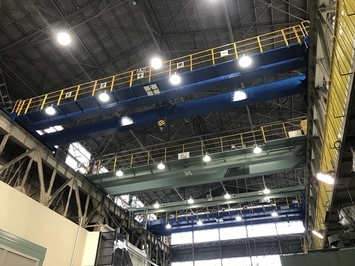 Our LED lighting apparatus is resistant to special environments listed below as it is driven directly by AC (alternating current) without ballasts (converters), and the products include high ceiling lights, floodlights, and crane lights.
[1] It can be used in high temperature environments (70°C). (It is 40°C for the general apparatus.)
[2] It can be used in dusty locations. (It is designed to prevent dust from accumulating.)
[3] Resistant to impact, it can be used as crane lamps. (LEDs are sensitive to vibrations.)
We have a track record of having our products introduced at more than 250 major companies throughout Japan, including steel manufacturers, paper manufacturers, and railway companies. We also manufacture products such as downlights, street lights, lighting devices for disaster prevention, spot lighting devices, and interior lighting for vehicles.
---
Do Light Co., Ltd.
1147 Shiroedacho, Izumo, Shimane
TEL +81-853-24-8380 FAX +81-853-24-8381
http://dolight.jp/(外部サイト)

 Hands-free LED light LUMINURSE

A light which allows the use of both hands during treatment nurses and nursing care providers conduct in the dark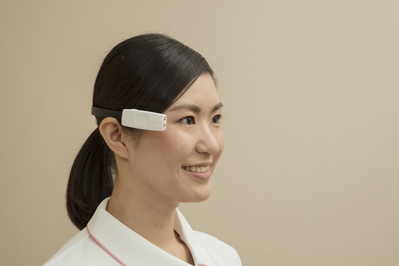 This product was developed in industry-government-academia collaboration along with the Shimane University Faculty of Medicine and Shimane Fujitsu Limited, based on the opinions of nurses who wished to use both hands for treatments during night time.
This light can be turned on without using one's hands, and allows the user to choose either a softly spreading light that does not cause stress to the person being treated or cared for or a light that illuminates only the treatment spot. It is a product which gives a sense of security to the patients and care receivers, and which allows the nurses and care providers to provide treatment safely with both hands.
---
Do Light Co., Ltd.
1147 Shiroedacho, Izumo, Shimane
TEL +81-853-24-8380 FAX +81-853-24-8381
しまねブランド推進課
〒690-8501 島根県松江市殿町1番地
TEL:0852-22-5128
FAX:0852-22-6859
brand@pref.shimane.lg.jp