島根県の建築材料・生活用品
Building materials and daily commodities from Shimane Prefecture

This section introduces building materials and other daily commodities manufactured in Shimane Prefecture in Japan.
These are building materials such as roofing materials, wall materials, floor materials and fittings to be used in houses, offices and public buildings, as well as daily commodities that are used in daily life.
If you have any questions about a product, please contact the manufacturer directly or the Shimane Prefectural Government E-mail: product-information@pref.shimane.lg.jp

 Sekisyu Kawara Tiles, Wall Kawara Tiles and Ground Tiles, and Kawara Tableware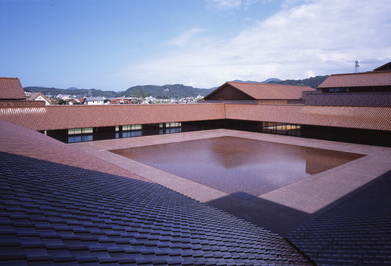 Our products are the fruit of 400 years of wisdom and skills.
The wisdom and skills of the craftsmen who have faced the baking temperatures of more than 1200 degrees have been scientifically proven, and Sekisyu Kawara tiles are balanced with high levels of almost all aspects of performance, including durability, heat insulation, water resistance, salt resistance, and frost resistance.
They also lead to maintenance-free, that is, high economic efficiency.
The diverse lineup of industrial products which can also be called handicrafts that radiate individuality represents the craftsmanship and creativity of the craftsmen called "Artisans."
---
Sekisyu Kawara Industrial Association
405, Kakushi, Gotsu, Shimane
TEL +81-855-52-5605 FAX +81-855-52-0766
https://www.sekisyu-kawara.jp/en/index.html(外部サイト)

 Kawara Tile Chopstick Rests with Original Logo Engraving

Original chopstick rests made by a Sekisyu Kawara pottery which has been in business for 214 years. Set of 2, with a decorative box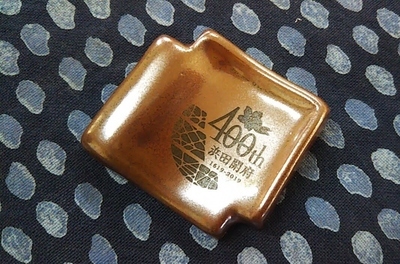 - Chopstick rests with Sekisyu Kawara motif, a regional brand in Shimane Prefecture (In collaboration with a facility for the disabled in Shimane Prefecture. The molding is done by the welfare facility and the baking is done by a Sekisyu Kawara pottery.)
- Laser engraving of an original logo
- It comes in a decorative box made by a box maker in Shimane Prefecture (an original logo can also be printed on the box)
- Adopted as a memento of the 400 year anniversary of the establishment of Hamada Domain, as well as a memento for restaurants and corporations
---
Kamedani ceramics Co., Ltd.
736 Nagasawacho, Hamada, Shimane
TEL +81-855-22-1807 FAX +81-855-23-0622
http://www.kamedani.com/(外部サイト)
しまねブランド推進課
〒690-8501 島根県松江市殿町1番地
TEL:0852-22-5128
FAX:0852-22-6859
brand@pref.shimane.lg.jp