島根県の建築材料・生活用品
Building materials and daily commodities from Shimane Prefecture

This section introduces building materials and other daily commodities manufactured in Shimane Prefecture in Japan.
These are building materials such as roofing materials, wall materials, floor materials and fittings to be used in houses, offices and public buildings, as well as daily commodities that are used in daily life.
If you have any questions about a product, please contact the manufacturer directly or the Shimane Prefectural Government E-mail: kaigai-tenkai@pref.shimane.lg.jp

 Sekisyu Kawara Tiles, Wall Kawara Tiles and Ground Tiles, and Kawara Tableware

Our products are the fruit of 400 years of wisdom and skills.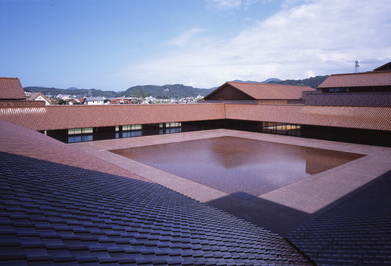 The wisdom and skills of the craftsmen who have faced the baking temperatures of more than 1200 degrees have been scientifically proven, and Sekisyu Kawara tiles are balanced with high levels of almost all aspects of performance, including durability, heat insulation, water resistance, salt resistance, and frost resistance.
They also lead to maintenance-free, that is, high economic efficiency.
The diverse lineup of industrial products which can also be called handicrafts that radiate individuality represents the craftsmanship and creativity of the craftsmen called "Artisans."
---
Sekisyu Kawara Industrial Association
405, Kakushi, Gotsu, Shimane
TEL +81-855-52-5605 FAX +81-855-52-0766
https://www.sekisyu-kawara.jp/en/index.html(外部サイト)

 Kawara Tile Chopstick Rests with Original Logo Engraving

Original chopstick rests made by a Sekisyu Kawara pottery which has been in business for 214 years. Set of 2, with a decorative box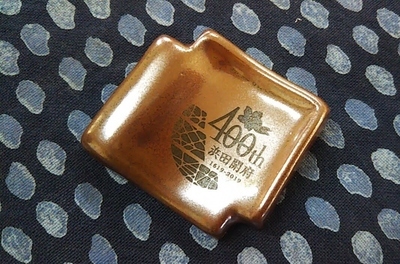 - Chopstick rests with Sekisyu Kawara motif, a regional brand in Shimane Prefecture (In collaboration with a facility for the disabled in Shimane Prefecture. The molding is done by the welfare facility and the baking is done by a Sekisyu Kawara pottery.)
- Laser engraving of an original logo
- It comes in a decorative box made by a box maker in Shimane Prefecture (an original logo can also be printed on the box)
- Adopted as a memento of the 400 year anniversary of the establishment of Hamada Domain, as well as a memento for restaurants and corporations
---
Kamedani ceramics Co., Ltd.
736 Nagasawacho, Hamada, Shimane
TEL +81-855-22-1807 FAX +81-855-23-0622
http://www.kamedani.com/(外部サイト)

  Flat Bamboo Product Series

Using our unique patented processing method,we transform bamboo into a new, utterly unique material.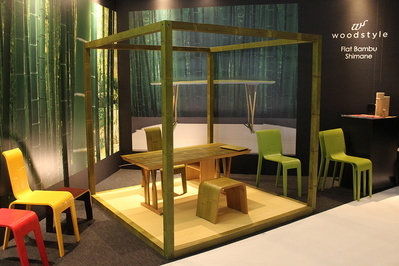 Bamboo has long been used as a material for furniture and everyday articles. However, its possibilities have always been limited due to bamboo's natural shape that has limited its workability. In recent years, bamboo has been somewhat forgotten, replaced by plastic and other easy-to-form materials. Using our unique technology, we have made it possible to process flat plates of bamboo, allowing us to create products that are altogether new.
These products are garnering attention due to their uniqueness and high-quality designs.
Our chairs designed by world-famous product designer Toshiyuki Kita have attracted attention, landing on the cover of famous Italian design magazines and so on. Our bamboo products were exhibited at the Salone Internazionale Del Mobile Di Milano in Italy, one of the world's largest furniture trade fairs, in order to promote their unique characteristics.
The products lineup included tableware, lacquered boxes, and business card holders.
---
Wood Style Co.,Ltd.
20-5 Fukuharacho, Matsue, Shimane
TEL+81-852-34-9777FAX+81-852-34-0007

  Re:neko, a Cat Furniture Brand

Looking to support a society where people and cats can live in harmony,
Re:neko creates spaces that people and cats can share more comfortably.
We design, manufacture, and sell various cat items that will make cat owners and cat lovers want them. Our company specializes in bespoke furniture. Building on this, we sell various types of cat furniture such as cat walkways, cat towers, and cat houses (Neko Chigura) produced at our own factory.
A popular product is our twenty-six-sided cat house, which also functions as a chair.
It features a stylish design to match contemporary living spaces, but also works as a hideaway perfect for cats who prefer small, dark areas.
---
Wood Style Co.,Ltd.
20-5 Fukuharacho, Matsue, Shimane
TEL +81-852-34-9777   FAX +81-852-34-0007
https://www.wood-style.com/(外部サイト)

 Wooden & Bamboo Products

Our bamboo skewers are responsible for the most sales in Japan.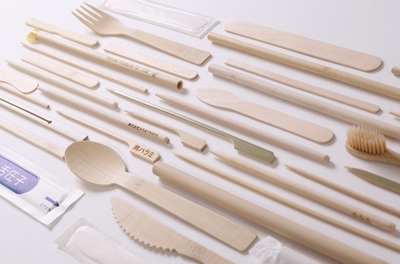 Our company primarily sells the bamboo skewers used for frankfurters and corn dogs sold at convenience stores and supermarkets across Japan, bamboo skewers used for oden and yakitori, as well as ice cream sticks and spoons. In addition to the Japanese market, our products are sold around the world, with a primary focus on Southeast Asia. Skewers used for frankfurters and corn dogs are our main products. They hold a 90% market share domestically and have the highest sales in Japan within the industry. Most of our products at our factory in Yasugi are sorted using our own unique camera image processing and sorting equipment,allowing us to achieve high-quality products.
We are expanding our business overseas, developing sales channels centered on our Thai subsidiaries and associated company in the Philippines.
In 2019, we developed a bamboo straw to help solve the problem of marine pollution caused by plastic waste. Building on this, we developed a bamboo toothbrush in 2020.
Going forward, we will continue to sell products globally that are environmentally-friendly with a focus on those created using bamboo.
 
---
(Head Office in Japan)
Hirose Products Co., Ltd.
356-3 Shimoyamasa, Hirosecho, Yasugi, Shimane
TEL  +81-854-32-2648  FAX  +81-854-32-2064
https://hirose-products.jp/en/(外部サイト)
(Subsidiary in Thailand)
HIROSE PRODUCTS (THAILAND) CO., LTD. / EVERGREEN THAI CO., LTD.
2 JASMINE Bldg., 22nd Floor, Room C, Soi Prasarnmitr (Sukhumvit 23), Sukhumvit Road,
North Klongtoey, Wattana, Bangkok, Thailand
TEL  +662-612-7363
しまねブランド推進課
〒690-8501 島根県松江市殿町1番地
TEL:0852-22-5128
FAX:0852-22-6859
brand@pref.shimane.lg.jp