Interviews  Vol.8

 Sekisyu Kawara Tiles, Wall Kawara Tiles and Ground Tiles, and Kawara Tableware

Cultivating ways to expand exports with a high quality for resistance to freezing and salt damage as their strength
Sekisyu Roof Tile Industry Association
---
Sekisyu Roof Tile Industry Association (President Hironori Kimura), which consists of 6 businesses in western Shimane Prefecture, delivers "Sekisyu Kawara" (roof tiles), produced with excellent durability by high-temperature firing, to all parts of Japan. The products have been adopted not only in Japan but also in the extremely cold regions of Europe and Southeast Asia, where natural disasters frequently strike, and protect people's safe and comfortable lives.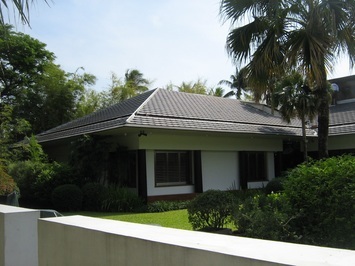 A house in the Philippines made using Sekisyu roof tiles (provided by Sekisyu Roof Tile Industry Association)
▼ Durable and long-lasting "100-year tiles" are achieved with high-temperature firing
---
Sekisyu roof tiles have been produced in western Shimane Prefecture since the early Edo period, around 400 years ago, and comprise the largest production area for roof tiles in Japan when combined with Sanshu and Awaji. Sekisyu roof tiles have the second largest share of the Japanese roof tile market.
Their characteristic is the extremely high durability that gives the tiles the name "100-year tiles." Since they are fired at high temperatures of 1,200 degrees Celsius and higher, which are higher than other production areas by 100 to 200 degrees, they are resistant to cracking and excel in cold resistance, heat resistance, sound insulation and salt damage resistance. For this reason, they have been used in roofing since ancient times in areas such as Hokkaido, where the cold weather is severe, and the Sea of Japan side of Kyushu and Tohoku, where salt damage often occurs due to strong winds. Akitaka Sasaki, executive director of the association, says, "Sekisyu roof tiles are resistant to deterioration over time and maintenance-free. They do not have to be repainted like iron plates or slate, so they are relatively low in cost in the long run."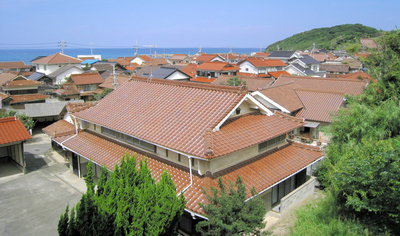 Western Shimane Prefecture where houses with Sekisyu roof tiles are widespread
▼ Aiming to achieve roof tiles that protect our lives and exist in harmony with our lives
---
In recent years, we have also been exploring new ways to make use of roof tiles that are more suited to people's lifestyles, including adoption on temporary housing for disaster-struck areas and development of Kawara tile tableware.
In Kumamoto Prefecture, which suffered from heavy rain damage in 2020, Sekisyu roof tiles have been used in 600 out of 800 emergency temporary housing units. This was achieved because Kumamoto had already been a good customer of Sekisyu roof tiles. Compared to metal and slate tiles, Kawara roof tiles are 30% higher in sound insulation, providing an environment in which residents who experienced heavy rain damage can live without anxiety due to the sound of rain.
We are also exploring new avenues, such as the promotion of lightweight roof tiles, laying tiles on walls and floors, and ceramic sand made from finely pulverized nonstandard tiles with firing failure.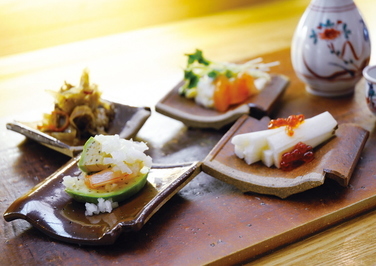 Sekisyu Kawara tableware (provided by the Sekisyu Roof Tile Industry Association)
▼ Export to countries with a high frequency of typhoons and severely cold countries
---
In recent years, the Sekisyu Roof Tile Industry Association has focused on expanding exports to Western countries and the Asian region, and cultivating new countries to export to, with the aim of improving its brand strength and cultivating growing markets. In the early 2000s, we exported 300,000 tiles per year to Taiwan, then conducted market investigation in the Philippines and Singapore to start exporting "disaster prevention roof tiles" which are resistant to strong winds and salt damage to areas that are often struck by typhoons. In Russia, where it becomes extremely cold, we conducted a demonstration to prove that the tiles do not break even at minus 50 ℃ and succeeded in exporting them. Then in 2019, President Kimura took 50-year-old roof tiles to a Japanese garden in Cowra, Australia, to advertise their strength and resistance to color fading. They approved of the high quality and decided to adopt Sekisyu roof tiles.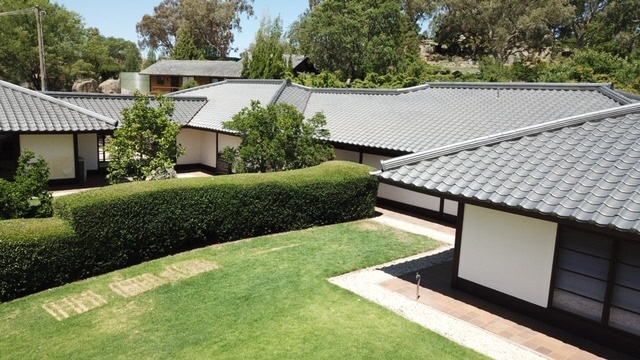 A "Japanese garden" using Sekisyu roof tiles in Cowra, Australia.
The decisive factor for the adoption was quality that did not decline even after half a century. (Provided by the Sekisyu Roof Tile Industry Association)
 
As roof tiles differ in color, shape, size, and other characteristics depending on the country, we plan to increase exports, particularly to Southeast Asia and Oceania, while carefully monitoring the needs overseas.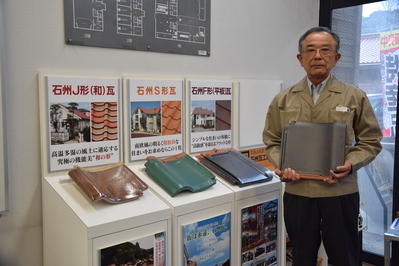 Executive Director Akitaka Sasaki holds a Sekisyu roof tile with excellent durability, etc.
We will continue to work on promoting exports taking pride in the fact that we have protected the lives of many people in disaster-struck areas and extremely cold regions
---
■ Association Profile
Sekisyu Kawara Industrial Association
President: Hironori Kimura
Website:https://www.sekisyu-kawara.jp/en/index.html(外部サイト)
Address: 405, Kakushi, Gotsu, Shimane
TEL:+81-855-52-5605
FAX:+81-855-52-0766
しまねブランド推進課
〒690-8501 島根県松江市殿町1番地
TEL:0852-22-5128
FAX:0852-22-6859
brand@pref.shimane.lg.jp