Interviews  Vol.7

  Composting Equipment "Easy Jet"

Development of deodorization and composting equipment for sewage sludge, industrial waste, etc.
MIRAIE in the environmental businesses
---
MIRAIE Co., Ltd. (Yadacho, Matsue, President Yoshihisa Shimada) develops equipment that efficiently converts large amounts of sewage sludge, food waste, livestock manure, etc. into compost. Anticipating future demands in China and Southeast Asian countries, where market expansion in the environmental field is expected, the company plans to strengthen overseas expansion of its proprietary products which reduce the generation of offensive odors while also delivering advantages in cost reduction.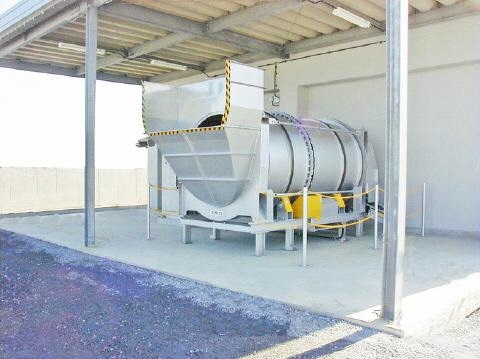 "C Mode," the first product MIRAIE developed after entering the environmental business.
Capable of producing compost in a shorter period than conventional treatment methods (provided by MIRAIE)
▼ Reducing the composting period by half
---
In 2000, Takahisa, who was the President at the time, started developing a composting system for sewage sludge, livestock manure, etc., while he worked on designing sewage systems. When his son, Yoshihisa, assumed the position of president in 2007, the company decided to specialize in the environmental field, and changed its name to "MIRAIE," with the concept of "leading to the future" in the following year.
"C Mode," the first mixing equipment developed, mixes wood chips and sawdust with livestock manure and sewage sludge and stirs them. By granulating sludge in a short period of time, it becomes easier to bring it into contact with air, reducing the fermentation period for organic substances, and achieving composting in half the time of conventional methods. At present, it has been introduced at 20 facilities nationwide, including facilities for treating livestock manure and sludge.
Construction image for "Easy Jet"
Achieves efficient, maintenance-free composting as it sends high-pressure air to the compost through a special nozzle that does not clog (provided by MIRAIE).
▼ Achieves cost reduction and durability
---
After repeating research into cost reduction and durability of the equipment as the greatest issues since 2005, composting equipment "Easy Jet" was the next product that was completed after "C Mode." This product was commercialized in 2007 through joint development with Shimane Prefecture. This system has a mechanism in which composting is facilitated by laying pipes made of stainless steel or resin attached with a special nozzle in grooves on the floor of the compost facility, and continuously sending high-pressure air from under the treated material with a compressor.
In addition to being able to construct the system freely regardless of the area and shape of the existing facility, it is no longer necessary to stir the treated material, which was a required task in composting, resulting in considerable reduction in the odor generated during the stirring operation. In addition, since it does not require maintenance with a special design to prevent clogging and there is no need to turn the treated material, labor and fuel costs can be reduced by approximately 69% per year compared to general treatment methods. President Shimada says, "We considered how we could make the treated material come into contact with air, and worked on ways to prevent clogging of the nozzle."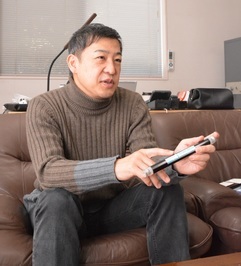 President Shimada explains the special pipes of "Easy Jet"
▼ Successive introduction as a measure against offensive odors
---
"Easy Jet" has attracted the attention of waste treatment companies, livestock farmers, food waste disposal companies, and sewage sludge treatment companies from all over the country who are having difficulties with measures against offensive odors, etc., and has now been introduced at hundreds of locations nationwide, from Hokkaido to Okinawa. Livestock-related businesses account for 80% of our business partners. It is also used in sewage waste treatment facilities, and has been highly evaluated.
In 2019, they exported "C Mode" and "Easy Jet" to a large organic fertilizer production company in Hubei Province, China. The absence of offensive odors in the treatment process has been well received, and tours have become quite popular at the companies that introduced the equipment.
With its high reputation in China, which has a serious environmental problem in regard to offensive odors, "We expect that the introduction of the equipment will advance in the future in China and Southeast Asian countries, where measures to treat livestock waste and sewage sludge are expected to emerge in the future," President Shimada says.
---
■Company Profile
MIRAIE Co.,Ltd.
Representative Director   Yoshihisa  Shimada
Address:  250-167 Yadacho,Matsue,Shimane
https://miraie-corp.com/(外部サイト)
TEL:+81-852-28-0001
FAX:+81-852-31-3981
しまねブランド推進課
〒690-8501 島根県松江市殿町1番地
TEL:0852-22-5128
FAX:0852-22-6859
brand@pref.shimane.lg.jp