Interviews  Vol.2

   a Carbon Dioxide Concentration Device "Zeo Collect"

Aiming to Expand the Applications of the Ferrierite CO2 Concentration Device
---
Daifuku Kougyo, Inc. (President: Akimasa Fukushiro), a general construction company in Edaotsu-cho, Izumo City, Shimane Prefecture, has developed a carbon dioxide (CO2) concentration device "Zeo Collect" using naturally occurring substance ferrierite (a type of zeolite), which is produced in the prefecture. They aim to achieve production of high-quality vegetables and fruits and reduction in cultivation costs by using high-concentration CO2 gas, which is produced by compressing the CO2 in the atmosphere, for agriculture. They are also continuing their research into expanding the applications of the device as part of global efforts to reduce CO2 emissions.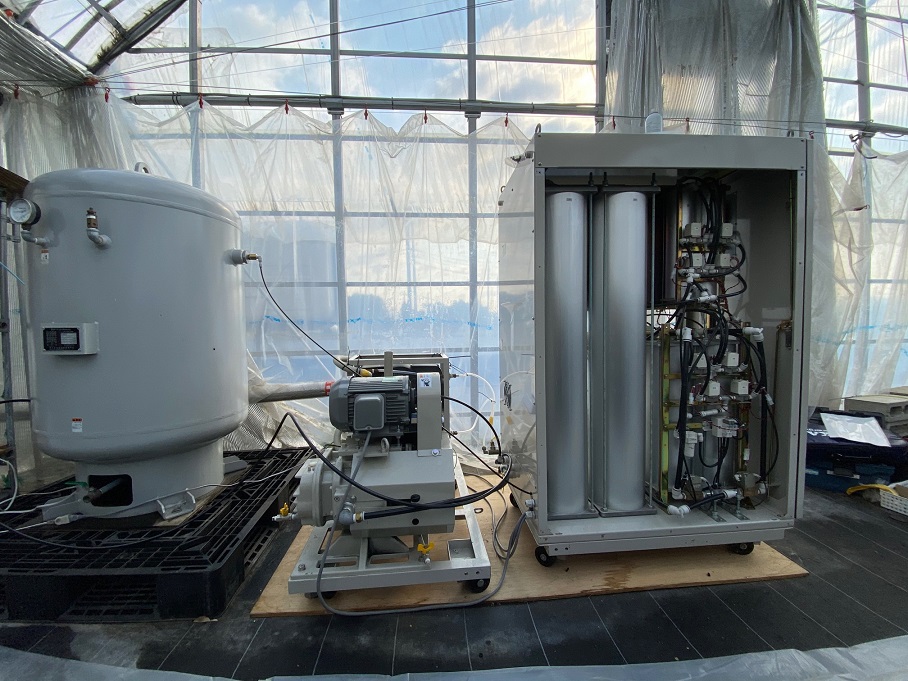 "Zeo Collect," a carbon dioxide concentration device
▼Accelerated growth and yield increase in strawberries
---
"Zeo Collect" was completed in 2012 after 3 years of development with industry-government-academia cooperation among Daifuku Kougyo, Shimane Prefecture Industrial Technology Center (Hokuryo-cho, Matsue City) and Waseda University, after Daifuku Kougyo focused on the characteristic of ferrierite, which is produced in Oda City of the prefecture, of adsorbing CO2. This device works by pumping air into 2 cylindrical cartridges filled with crushed ferrierite, repeating pressurization and depressurization, and spraying the plant seedlings in the greenhouse with high-concentration CO2, which is concentrated to 10 to 20 times higher than the atmosphere, to promote photosynthesis and growth. According to data obtained by the company, the strawberries grew larger, the sugar content increased by 1.5 degrees, and the yield increased by 35% compared to strawberries that were grown without using Zeo Collect.
 Its running costs have been reduced so that it continuously concentrates CO2 gas at a monthly electricity cost of approximately 10,000 yen. It is attracting attention for the potential to contribute to global warming prevention, as it can be used throughout the year.
 The development of the device started when Kazuyuki Omura, Manager of Environmental Engineering Department of the company, found and reread a paper published by a prefectural research institute about 30 years before on ferrierite, which was produced within the prefecture, and focused on its properties. He wondered if it could be utilized in agriculture, when the National Institute of Advanced Industrial Science and Technology (AIST) requested a sample and later confirmed the adsorption characteristics of ferrierite after they listened to the lecture the Manager gave in Tokyo in 2010.
 "We continued experiments to determine how much pressure was required to adsorb CO2 to zeolite, how to adjust the adsorption, and how many minutes it took to collect the gas, and repeated trial and error while tracking digitized data to achieve the concentration of 800 to 1,200 ppm (10,000 ppm at maximum concentration), which is optimal for the growth of crops," the Manager says. A female employee involved in the development named it "Zeo Collect," and the company produced a total of 10 units. The environment-friendly product made with naturally occurring ferrierite was introduced on a trial basis at farms and companies in and outside the prefecture, and 1 unit each was sold to an agricultural corporation and a research institute in Fukuoka and Tochigi prefectures.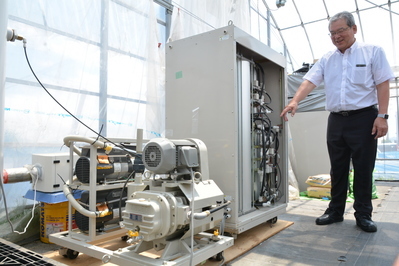 Manager Omura explaining "Zeo Collect"
▼ High level of interest in the product, even capturing the attention of JAXA
---
When the product was presented at various agricultural and environmental exhibitions, it was featured in industry newspapers, and drew attention as a new way of farming with the company receiving nearly 100 inquiries, including those from overseas. However, it was not easy to enter the field of agriculture because of some problems such as equipment investment by producers. It was then that an offer was made from an unexpected source. The Japan Aerospace Exploration Agency (JAXA), which was interested in the treatment of CO2 emitted in spacecraft, purchased one unit of the CO2 concentration device. Even now, they are working on development and research in cooperation with the company at the Chofu Aerospace Center, which served as an opportunity to consider entry into fields other than agriculture.
 "Although expansion of Zeo Collect production has been difficult in the field of agriculture as the initial investment is always an issue, we are also promoting the production and sale of a modifier to prevent heavy metal pollution of groundwater that applies the adsorptive property of zeolite," President Fukushiro of the company says as he introduces the new projects that were derived from research. Noting that interest in prevention of global warming are growing, he says "We are in an era in which we view CO2 as part of the social responsibilities and social contribution of each company. We will continue joint research with JAXA and other interested companies, and look for ways to utilize this technology in various fields, not just agriculture."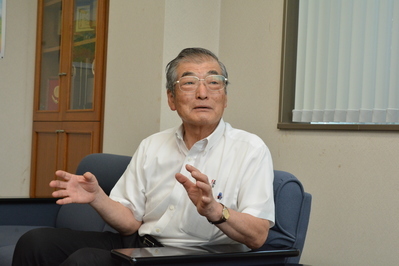 President Fukushiro talking about their future prospects
---
Daifuku Kougyo, Inc.
President: Akimasa Fukushiro
Address: 2-7 Edaotsu-cho, Izumo City, Shimane Prefecture
TEL+81-853-21-4151
FAX+81-853-21-4152
しまねブランド推進課
〒690-8501 島根県松江市殿町1番地
TEL:0852-22-5128
FAX:0852-22-6859
brand@pref.shimane.lg.jp