Interviews  Vol.10

 Transmission

Deep Trust with Advanced Processing Technology / Taking on the Challenge of Advancing Overseas with High-Performance Transmission in Their Arsenal
Asano Gear Factory Co., Ltd
---
Asano Gear Factory Co., Ltd (Yada-cho, Matsue) is a specialized gear manufacturer that was founded in 1949. It is known nationally for its production of single gears and assembled parts such as transmissions. They have earned the trust of their business partners by manufacturing and supplying the parts demanded by customers at low prices and strictly on time with technology cultivated through their long years of experience as artisans. Asano Gear Factory now looks to expand sales channels overseas such as in Europe and Southeast Asia, having begun transmission exports to leading Italian agricultural machinery manufacturers in 2018.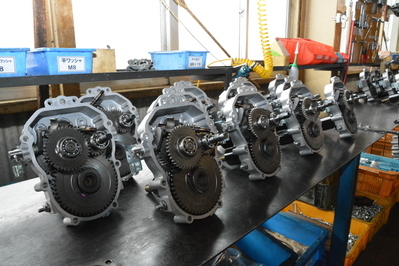 Transmissions for transportation vehicles
▼ Transmissions equipped with gears manufactured in-house
---
Although Asano Gear Factory manufactured and distributed single gears at the time of the foundation of the company, the manufacture of transmissions, reduction gears, and speed increasing gears for agricultural and industrial machinery has increased over time. Products involving assembly now account for half of the company's production. Small transmissions, the company's top products whose manufacture was started in the 1970s, incorporate several types of in-house gears in millimeters that have been made to be ultra-thin through skilled processing techniques. At present, Asano Gear Factory produces six types. Compared with the products of other manufacturers, our products are highly regarded for the lightweight and compact design, accurate operability, strong durability, small size, and low cost. Domestically, Asano Gear Factory has captured 80 to 90% of the market in the field of transmissions for small agricultural machinery.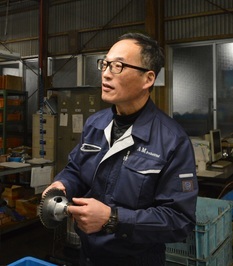 President Hashimoto holding a gear manufactured by his company 
▼ Handling of small orders and strict observation of delivery dates
---
Asano Gear Factory's main customers are major agricultural and industrial machinery manufacturers. The company receives orders including small lots from about 200 companies in Japan from Hokkaido to Okinawa Prefectures In addition to quality, the company has adopted a meticulous approach to meet short deliveries and delivery deadlines, as well as handle orders placed only once every few years and small lots in quantities of a few dozen. In Japan, the company's transmissions are mainly used in small agricultural transportation vehicles, pest control devices, and so on. "It is a cardinal rule of our business to value even small orders and keep our promise with our customers regarding delivery dates," says President Masashi Hashimoto.
However, the agricultural environment has changed drastically in Japan with the decrease in the number of farmers due to the aging of farmers, exhaustion of rural areas, and other issues. Demands for small agricultural machinery, which had been the mainstream in the past, began to decline due to the popularization of large combine harvesters, and transmission production has been sluggish.
▼ Overseas trading that began with a single email
---
Meanwhile, the company found a ray of hope in the form of an email from Cormidi in Italy in 2016. Cormidi manufactures and distributes agricultural machinery while bringing together high-performance parts from all over the world. They asked to use Asano Gear Factory transmissions in small agricultural transportation vehicles of their own development after noting the durability and high operability of the transmissions. After sending samples and signing a contract, Asano Gear Factory exported 50 units for the first time in February 2018. Although President Hashimoto initially expected the deal to be a one-off transaction, Cormidi has since continued to place orders, which have now reached a total of 450 exported units. The parts are equipped in transportation vehicles that are used for harvesting on grape farms and more, and exports of their products overseas have also contributed to an improvement in employee morale.
▼ Aiming to further expand overseas sales channels by strengthening their ability to make proposals
---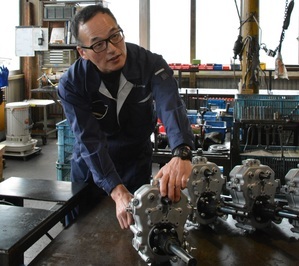 President Hashimoto aims to expand overseas sales channels with their success in Italy in their arsenal
Anticipating the expansion of sales channels in Europe, ASEAN countries, and so on, Asano Gear Factory is working to create an English-language version of its website in order to strengthen its ability to communicate overseas. It is also planning to focus on PR, including active participation in various exhibitions held overseas, once the COVID-19 pandemic ends. President Hashimoto speaks with enthusiasm, saying, "I would like to gain the ability to make proposals by developing our own products for the next generation, and explore the possibility of doing business with companies in Thailand and Germany with which we have established relationships."
---
■Company Profile
ASANO GEAR FACTORY Co., Ltd
President: Masashi Hashimoto
Website: http://www.asano-transmission.com/(外部サイト)
Address:250-108 Yadacho, Matsue, Shimane
TEL:+81-852-24-3111
FAX:+81-852-24-3114
しまねブランド推進課
〒690-8501 島根県松江市殿町1番地
TEL:0852-22-5128
FAX:0852-22-6859
brand@pref.shimane.lg.jp